Microsoft released new Windows 10 update and again there is a new tsunami approaching.
Media Foundation H.265 decoder: there is no longer "preliminary documentation" notice in MSDN article. The decoder is a substandard quality software item but it covers more or less what it has to. In particular, it indeed backs H.265 video playback including with the use of DXVA2 where applicable. It could have been an impression that technology matures and who knows maybe it will be even updated to at least the quality and feature set of H.264 decoder.
To make life more interesting and challenging Fall Creators Update does a breaking change. The changes are not yet documented, and they are important: H.265 decoder is taken away. Luckily, not completely: the decoder (along with encoder) is moved to a separate Windows Store download: HEVC Video Extension.
Even though it looks like being the same decoder, it is packaged differently and consumers might require to update code to continue decoder use/consumption.
Even though mentioned above makes at least some sense, there is also an obvious bug on top of all this: 32-bit version of the decoder is BROKEN.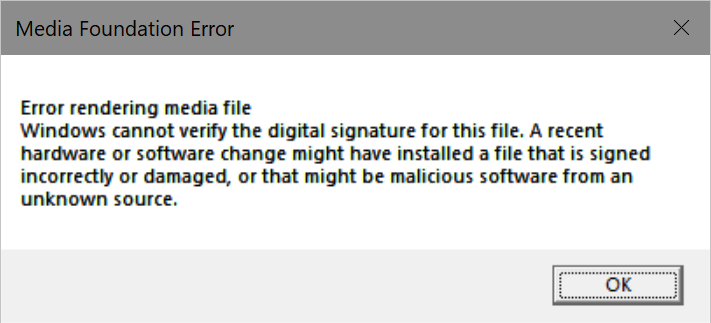 The released variant of the decoder is sealed by digital signature and enforces integrity checks. This looks good with 64-bit version of the software, and in particular stock Movies and TV Player application can indeed play H.265 video in 64-bit Windows because 64-bit version of the application is used, and in turn this pulls 64-bit version of the decoder. However, 32-bit version of the DLL is broken and does not work, hence 32-bit applications relying on H.265 video decoding capabilities are going to stop working with Fall Creators Update.
The problem is apparently the integrity check because if you manage to remove that, 32-bit version of H.265/HEVC decoder is operational.
It will take some time for Microsoft to identify and fix the problem. It will be fixed though, so if it is important to have 32-bit apps functional in the part of H.265 video decoding/playback, one should rather postpone Fall Creators Update.
Further reading: